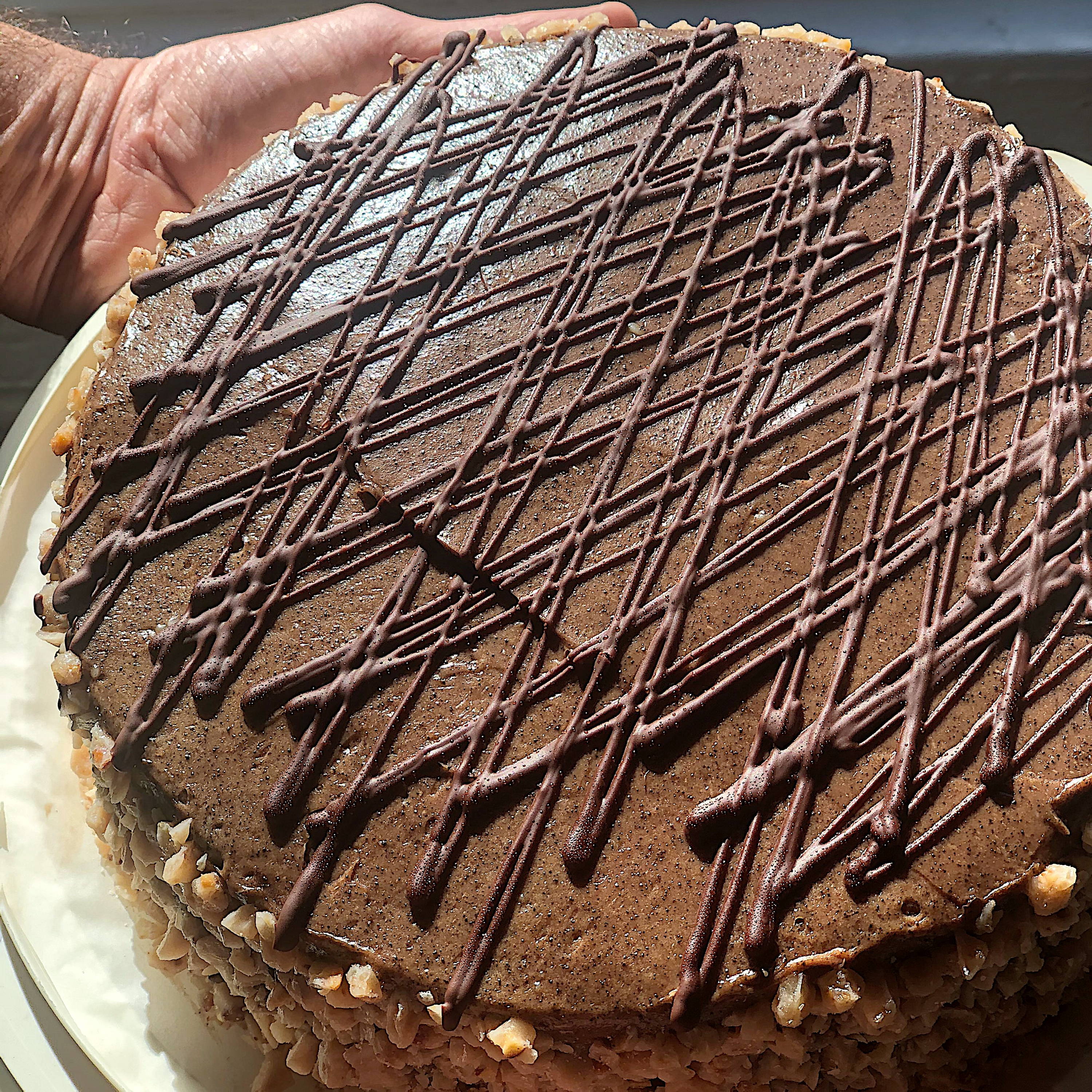 Earlier this year we did some holiday recipe development and our Head of Roasting came up with this little number. It's chocolatey, dense, and richly coffee flavored – a total showstopper. The toffee bits that encrust the edges add perfect texture and make it a true holiday delight.
Yields - 12 Slices
INGREDIENTS
CAKE
1 3/4 cups all-purpose flour
2 cups sugar
3/4 cup cocoa powder
2 teaspoons baking soda
1 teaspoon baking powder
1 teaspoon salt
1 cup buttermilk
2 eggs, slightly beaten
1 cup strong black (brewed) coffee, like
1/2 cup vegetable oil
1 teaspoon vanilla extract
FROSTING  
8 oz. cream cheese, room temp
8 oz. mascarpone, room temp
3 cups confectioner's sugar
1 tablespoon pure vanilla extract
2 tablespoons finely ground coffee, almost a powder (optional)
1 tablespoon dutch cocoa powder
Pinch of kosher salt
DECORATION
1 oz. bittersweet chocolate
8 oz. toffee pieces
---
Preheat oven to 350F. Line two 8" baking rounds with parchment, spray with non-stick coating, and dust sides of pans with cocoa powder.
Combine first six ingredients (flour through salt) in large mixing bowl. Add buttermilk, eggs, coffee, oil and vanilla. Beat 2 minutes with a mixer at medium speed. Pour into prepared pans.
Bake 35 to 40 minutes, until wooden pick inserted in the center comes out clean. Let cool in pan for 15 minutes. Un-mold and let cool completely on a wire rack. Don't skip the cooling step!
In an upright mixer, whip cream cheese and mascarpone together until smooth. Add powdered sugar, coffee, cocoa, salt, and vanilla. Mix gently on med-low speed stopping frequently to scrape down sides. If too dry, moisten with a few drops of milk. If too loose, add more confectionery sugar.
Trim the cake rounds if uneven and frost with an offset spatula on your favorite cake plate. First, sandwich frosting between the cake layers and carefully ice the sides and lastly the top. Once smooth, gently pack toffee pieces on the sides of the cake and brush off excess.
Melt bittersweet chocolate in a small plastic food storage bag in the microwave for twenty seconds. Keep repeating this process until the chocolate is completely melted. Don't overheat or else the chocolate will seize and you will need to start over. Cut the corner tip of the bag and begin decorating the top with your own design.
Lastly, take your finely ground coffee and dust over the top of the cake. This will add a bit more coffee flavor if you are looking for a bit more intensity.